As a teenager, Lily Ana began to present her art in coffee shops in her hometown of San Diego, California. With an honest movement vocabulary and compelling storytelling made of her own experiences, she explores dance, performance art, and music with an emphasis on making art an accessible value, not a commodity. At 18, she garnered a Tommy Award for "Emerging Choreographer" from the San Diego Dance Alliance.
I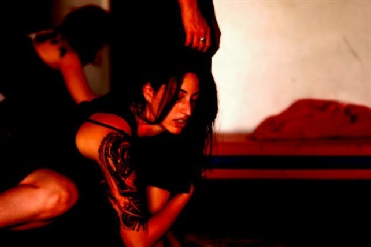 n 2003 she founded contACT ARTS; a California 501 (c) 3 Non-Profit Arts Organization. In theaters, her work has been presented at La Alborada (Tijuana), CA Center for the Arts (San Diego), Highways (Los Angeles), Triskelion (New York City), Centro Cultural Los Talleres (Mexico City), Dance Mission (San Francisco), Centro Estatal de las Artes (Mexicali), Museum of the Living Artist (San Diego), Ivar (Los Angeles), Kulas Stage (Cleveland), Sushi (San Diego), Electric Lodge (Los Angeles), World Beat Center (San Diego), Ortspace (Tucson), and CounterPULSE (San Francisco) among others.
Lily's work has been commissioned by the Coronado School of the Arts and the University of California, San Diego. Her work has appeared at Miami Dance Festival, Sonoma Arts Fringe Festival, Oregon Country Fair, Festival de Danza Contemporanea (Tijuana), Brooklyn Nights Music Festival (Spokane, WA), Wild Dancing West Festival (Albuquerque, NM), First Friday Art Event (Missoula, MT), Brewvies (Salt Lake City, UT), and Wade Oval Performance Series (Cleveland, OH) among other site specific performances.
In 2014, Ciurlino became the Director of Special Events for the San Diego International Fringe Festival where she created and developed World Fringe's first Bi-National Festival in Tijuana, Mexico. and the Emerging Fringe Program; a platform for local teenage performing artists to create and present original work.
I